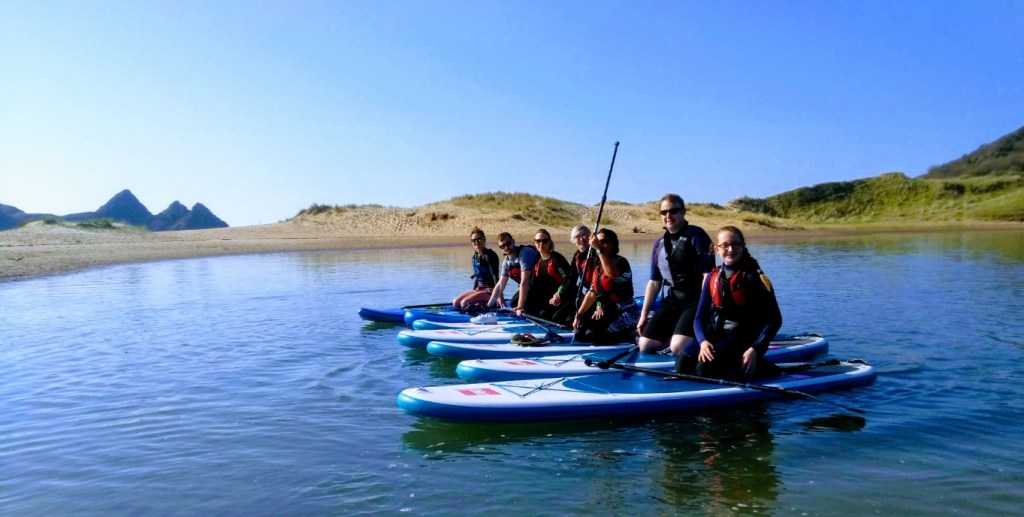 This is an amazing paddle experience which starts at the Heritage Centre, on the Gower coast in South Wales. On a high tide you can start the paddle from the river that starts in the carpark at the Heritage centre, by paddling underneath the road via an amazing stone tunnel and involves lying face flat on your board and also hanging on to your paddle!
As you make your way to the entrance of the sea, it's at this point you'll be able to hear the ocean, feel the water filling up the river as you paddle towards the sea and then you will see the Three Cliffs in the distance.
As you continue and head towards the sea, the Three Cliffs tower above the ocean, which is a spectacular sight and this is the time to get your camera ready!
If it's a summer evening paddle you might be lucky enough to see the most incredible sunset, where both the sky and the ocean turn red, and you can choose to paddle out to the Cliffs and on a calm day paddle through the tunnel in the rocks. At the entrance to the sea there is a beautiful lagoon to paddle around and there is a sandbank where you can sit and relax before your paddle back up the river.
I have paddled this numerous times and is one of the most amazing paddling experiences I've ever done and definitely in my top five.
Contact Stu on 07923085281 for more information about upcoming paddles, availability and dates.
Website: supdudestu.com
Choose a class and book your session below