La Charrette – The Smallest Cinema in Wales
Available for private bookings – Subject to corona guidelines. Bring your own DVD (Standard or Blu Ray) or USB Stick and enjoy a party for up to 6 people at our private cinema. The red carpet will be rolled out and you can also bring your own food & drinks. Please Note: Tickets must be purchased 24 hours in advance
La Charrette – The Smallest Cinema in Wales. Available for private bookings in groups of up to 6 people – Subject to corona guidelines
Bring your own DVD (Standard or Blu Ray) and enjoy a party for up to 6 people at our private cinema. The red carpet will be rolled out and you can also bring your own food & drinks.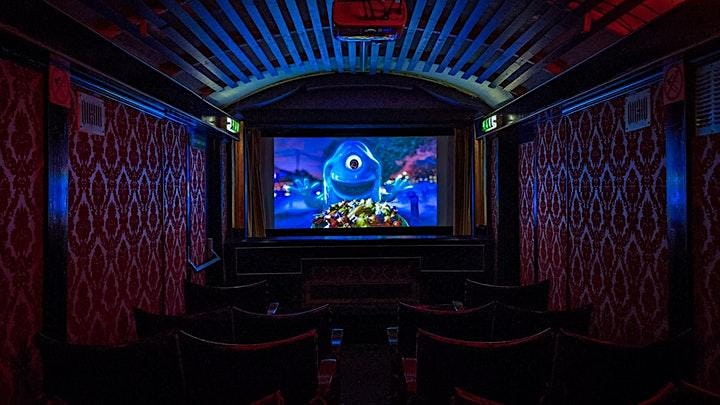 Recent History
La Charrette started out as a tiny, 23-seat venue, sited in a back garden in the town of Gorseinon, near Swansea. 'La Charrette' (French for 'the carriage') was built from a disused railway carriage by the late Gwyn Phillips, who fell in love with the silver screen while working in local cinemas as a teenager.
The British Film Institute has recognised La Charrette as the smallest cinema in Wales.
In 2008 BBC2's Culture Show hosted a special premiere screening at La Charrette of the previously unseen Danny Boyle film Alien Love Triangle (2002), starring Kenneth Branagh, Courteney Cox and Heather Graham. For the screening, Branagh made a personal appearance, while Cox and Graham recorded special messages.
Hire
La Charrette Cinema is now available to hire for birthday parties, private and corporate events. Why not host your own red carpet showing or Oscar themed showing.